graphic creations
design, print & admail solutions for small business & nonprofits
Who we are
We're a small Winnipeg Graphic Design Studio and Print Services Provider.
We'll  help you promote your products and services and engage with your clients and prospects.
Contact us now to to see how we help your small businesses or nonprofit! 
We've been helping
small businesses and
non-profits grow for
over 20 years.
We know small businesses want simple, effective and affordable solutions to promote their business!  That's why we offer you simple one-touch solutions — handling your graphic design, print, direct mail or Google Ads needs. 
We have helped a wide range of small businesses over the last 20 years.
realtors
dental clinics
non-profits
law offices
accounting firms
physiotherapy clinics
automotive shops/dealers
manufacturers
We like small businesses! If you're a small business and you need a little help promoting your small business products and services we'd love to hear from you!
As a small Winnipeg graphic design studio we're sympathetic with the pain points of self promotion and understand how difficult and time consuming it can be promote your products and services without a little help.
Contact us now to see how we can offer you simple and effective solutions to help you promote your business and services.
How We Help
strategy | design | print | digital 
customer retention | customer growth
neighbourhood admail | personal admail 
google ads management & support
We design effective and functional communication materials that show your customers and prospects why your products and services are of value to them. (Good graphic design needs to be more than just pretty.) 
We help you build familiarity and trust with your customers and prospects. We'll make it easier for you routinely engage with your customers and prospects through direct mail or digital.
By supplying you with affordable digital or printed products that your business needs, such as letterheads, envelopes, cheques, carbonless forms, signs and labels, we make your life a little easier and your brand a little more consistent.
Products and Services
because the little things you do to promote your business make a difference
MARKETING MATERIALS
business cards
sell sheets | flyers
brochures | newsletters
postcards |door hangers
posters | banners | signs
magnets | stickers and labels
event tickets premium full-colour
booklets | manuals and guides
presentation folders
OFFICE ESSENTIALS
business cards
letterheads | envelopes
cheques | carbonless forms
invoices | statements
receipt books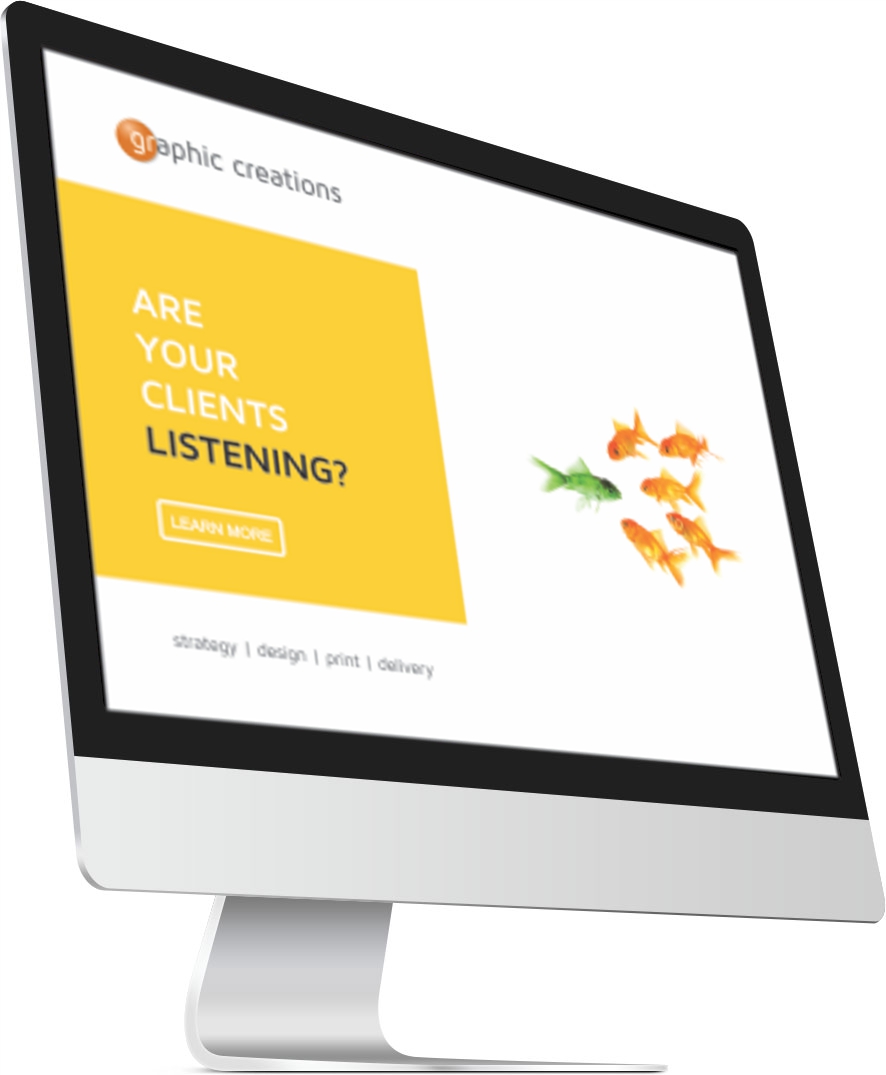 Are you staying in touch with your customers? Research from Harvard Business School shows that increasing customer retention rates can by as little as 5 percent can increases your profits by 25 percent to 95 percent. You don't have to go to Harvard to how important customer retention is!
Customer Retention & Growth
YOUR CUSTOMERS AND POTENTIAL CUSTOMERS:
want you to OFFER THEM SOLUTIONS

ARE MOTIVATE BY certain words

want to be informed AND EDUCATED

ARE WILLING to give refferals
Do you have a new project in mind or an old one that needs an update?
Graphic Design
Have a new project in mind?
Need to update some old marketing material or have it reprinted?
Don't know exactly what you need. That's OK, we get it.  We can offer you a little advice and talk to you about your options.
Send us an email with a few details of what you are looking for and we'll let you know how we can help.
Print 
Need to order office stationery, cards, letterhead, invoices, cheques. forms, etc.?
We've partnered with some of the best and most reliable trade printers in Canada. Contact us and we'll make sure you get a great product at a great price!
We'll confirm your order, send a proof if there are updates and ship directly to your door.
Production is usually 2-4 days!  Most clients receive their product  in 7 business days.
Direct Mail
Need to reach out to people in your neighbourhood or inform your existing clients of new products and services?
Contact us and we'll help you make it happen.  We'll likely even save you some time and money on prep and postage.
Google Ads
Show up when people search for what you offer. Get more website visits, more calls, more customers in the door.  Pay only for clicks and calls. 
Let a Google Ads certified professional, efficiently manage your Google Ads and help you grow your business.
Graphic Creations helped us create a professional identity for our new dental practice. The stationery and business cards they designed and printed for us look great. The mailer that they designed, printed and distributed helped us acquire new clients and reintroduce our practice to the neighbourhood.
We've used Graphic Creations for years to help us with our woven an printed garment label designs. They also supply us with our office stationery, laser cheques and shipping labels. 
When I changed my law practice and location Graphic Creations created all of the necessary design and printing required to identify the new law firm. A new logo created by Graphic Creations is on all of our promotional materials and signage. Business cards and stationery present a unified and professional appearance. Financial documents such as cheques were printed using security features that not only made them more secure but allowed us to create them with our own accounting program.
Graphic Creations was very helpful in the designing and printing of the labels we used for the packaging of our specialty gardening supplements. They are friendly, accessible and easy to work with.
Lets Start Promoting Your Business Now!
Hours
By appointment only
Address
11 Pearce Avenue,
Winnipeg, MB
Canada  R2V 2K2
Contact Us and Say Hello!
We're happy to chat with you about your project and discuss your options.
Drop us a quick note with a few details of what you looking and we'll get back to quickly and let you know how we can help.
or call us now at
graphic creations
204-338-7892